Pink or blue? That seems to be the first choices presented to expecting moms when it comes to decorating the nursery. It could be the guestroom, a vacant bedroom, or a specific area in the master's room that will especially be for your little tot. Regardless of where your baby nursery will reside, it deserves that magical mommy-touch so here are a few inspirations for soon-to-be and new moms: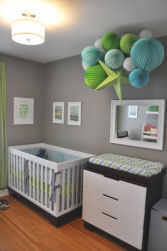 Above is from a website called Unique Baby Gear Ideas and these are the two best nursery themes for me. The second one is very simple yet modern. Just look at how the changing station doubles as a storage and very near in fact to the crib. The cribs shown on both photos are practical ones that your child can grow up with. Believe me, your baby crib may be your next best friend when your infant starts crawling around and trying to stand. It will protect him from the dangers of falling over and being in unsafe spots in your house.
This is how Ashton's baby crib looked like when he was 3 months old. I regret that I never took a photo of the entire room we shared. But here are the essentials for your nursery with practicality in mind.
1. A milk station – even when I am breastfeeding, I need a place for my breast pump and all its accessories, baby bottles, nipples, milk storage, and boiled water.
2. The crib – you can always seek for a second hand crib (I used my sister's) which was rather sturdy compared to what are available now. You may want the essential baby mobile and a complete set of baby beddings. Avoid pillows unless you are present, never leave a baby with a pillow inside the crib to avoid the risk of suffocation.
3. Baby closet – designate one full closet for your baby's clothes, beddings, accessories, including first aid tools like thermometers and nasal aspirator. Put small socks and mittens in one container to save time from looking all over the place for them.
And that's all you need for your nursery. I personally did not have a changing station but survived with a changing mat instead.
Do you have any tips and ideas when it comes to putting together a baby nursery?